PROFILE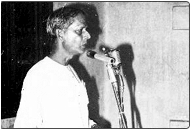 1924 - 2005
Born on February 12th, 1924 at Pastapar, Saharsa (Bihar) – his maternal uncle's village near Madhepura, Prabodh Babu was the eldest of the three children (followed by his brother, Subodh, and sister, Vaidehi) of Jaya and Sridhar Prasad Singh from Shahmourah in the Sonbarsa sub-division in the Saharsa district of Bihar.
Prabodh Babu spent his childhood mostly in his village Shahmoura, Saharsa, and received education from his father, Sridhar Narayan Singh – a highly respected figure in the entire Sonbarsa region for his wisdom and wide reading. He was educated in a school set up by his father in the initial years.Later, he joined the Shahpur School in the near-by village. However, he passed his Middle School Examination from Shah-Alamnagar Middle School in 1938. After that, he joined the High School in Saharsa, which is now the district head-quarter, but which was then a major town in the Bhagalpur district. It was soon after 9th August 1942 – after the arrest of Gandhiji and other national leaders in the wake of 'Quit India movement' that he plunged into militant freedom struggle. As a part of the efforts in armed uprising, which made him miss out on a considerable time of regular education in Saharsa, he had become one of the "most wanted" persons in the eye of the then British Government with a prize money on his head. Later, some leading advocates of the region supported him, which enabled him to resume his studies. He joined Madhepura School to appear in the Matriculation examination and then joined the Inter-mediate education at Bhagalpur.
Meanwhile, in the middle of his 'Swadeshi' activities, Prabodh Babu was married to Binda Devi of Barahi, and was blessed with a daughter, Ila Rani . Meanwhile, Prabodh Babu had passed out his Matriculation examination from Madhepura Shirres School (Bhagalpur district) with English, Hindi, Sanskrit, History, Geography and Mathematics in 1944 and Intermediate with English, Hindi, Sanskrit, Logic and Economics in 1946 from Bhagalpur - both from under the jurisdiction of Patna University.
Professor Singh began his serious academic career initially with Sahityalankar (1945) and Sahityaratna (1947) from Hindi Sahitya Sammelan, Prayag, and followed it up with a B.A. (Honours) degree in Sanskrit from Patna College of the Patna University (1946-1948) with Hindi, English and Philosophy as subjects. Meanwhile, in October, 1947, his wife (Binda Devi) passed away. During this period in Patna, he also worked as a part of the editorial team of the Hindi journal, 'Mel-milaap'.
Ever since then, Prabodh Babu left Bihar and settled down at Kolkata – first, as an Assistant Editor of a Hindi Daily – Dainika Lokamanya, and later as a Professor in the university. It was here that he also pursued his educational interest while continued to work at night, and earned the degree of Master's in Hindi from the Modern Indian Languages (MIL) department, University of Calcutta, in 1950, earning two gold medals – one for having stood first in the first class in Hindi and another for shattering all-time record of the MIL department between 1918 and 1948. Later, Prabodh Babu also earned additional Master's degree in Comparative Philology (1968), Pali (1969), and Persian (1970) from the University of Calcutta, with several other gold medals. His first teacher in Urdu during his childhood days was a tailor in Shahpur Bazar who knew the language very well. Later, between 1967 and 1980s, he studied Persian as well as Arabic under an erudite Moulavi at Calcutta to pursue his interest in Islamic Studies.
It was at Calcutta, during his initial Master's course in Hindi that he had studied together with Anima Dhar – who hailed from Mymensingh now in Bangladesh but with deep interest in Hindi language and literature. They got married on July 28th, 1950, and worked as a team for various causes related to Maithili language development. Anima Singh herself became a celebrity scholar in Maithili Folklore studies with her numerous publications and also as a doctoral student of Prof. Sukumar Sen. Later, she became a Professor of Hindi at Lady Brabourne College, Calcutta. Prabodh Narayan and Anima Singh have two sons, Udaya and Ajay .
Ila Rani Singh became an eminent poetess in Maithili as well as a scholar-teacher in Maithili and Hindi, having taught at Bhagalpur and Calcutta universities. She passed away in 1995
Prof. Singh was awarded the degree of D.Litt. in Maithili (1972) by the University of Calcutta, and also a D.Litt. in Hindi (1976) by Magadh University, Gaya. His dissertations at Calcutta on 'Vaijnaanika Pariprekshya meM rasa-siddhaanta' and the one in Gaya – 'Hindi Khari Boli aur Manak Maithili Tulanatmak Bhasha Vaijnanika Adhyayan' drew wide attention, although they have remain unpublished till this day. His doctoral studies showed that he was firmly established as a scholar of language as well as literature.
Prabodh Narayan Singh taught Hindi, Pali, Persian and Comparative Philology in Calcutta between 1950 and 1990 in various capacities, and made his mark as a multilingual scholar and teacher of eminence. He initially joined as a Lecturer in Hindi in Charuchandra College in July 1951, and shifted in 1953 to Jaipuriya College (both at Calcutta),during which he began teaching as a Part-time Lecturer in Calcutta University since January, 1959. However, from July, 1960, he joined Calcutta University as a full-time lecturer by July 1960, where he was promoted to Reader in Hindi in February, 1978.
Prabodh Babu edited a Maithili monthly – 'Mithilaa Darshan' since 1951, and a few anthologies like – 'Cayanikaa' (1952) and 'TaTaka gapp' (1968). Later, he gave phillip to the theatre movement in Maithili by having translated/adopted three plays from Bangla ('Cor' by Prabir Banerjee), Hindi ('Anher Nagarii' by Bharatendu Harischandra) and French ('Premak rog' by Moliere), published three collections of original poems in Maithili ('Hanumana Ashtaka' in 1968, 'Jayanti' in 1968, and 'Vaijayanti' in 1976), one in Hindi ('Lasika' in 1946), and a collection of stories in Hindi ('Azad Hind Fauz' in 1947). His original play in Maithili, 'Hathika Danta' (1961) became a highly popular stage show in Mithila. His translation of Qurratuleen Haider's 'PatjhaR kii Aawaaz' (1997) from Urdu to Maithili brought him the Sahitya Akademi Award for Translation in 2002.
Prof. Singh also had guided several doctoral students during this period – the prominent among them being the following: Suneeta Kulasrestha, Akhilesh Chandra Upadhyay, Hridayesh Mishra , Bibha Das, Urmila Singh, and Sadaphal Upadhyay, Kiran Sipani, Vijayalakshmi Mishra, Biju Rani Pal, and Vidyavati Devi .
As a social organizer, Professor Prabodh Narayan Singh has always been at the forefront of Maithili language movement, initially having worked hard to set up the Akhil Bharatiya Mithila Sangh at Calcutta jointly with Babusaheb Chowdhury and Devnarayan Jha, and later an Akhil Bharatiya Maithili Mahasangha – which was an umbrella organization of numerous Maithili outfits. His frequent visits to all parts of Mithila, moving with a convoy from village to village is remembered by the language enthusiasts even to this day. His house at Kolkata would always throb with activities – whether it be a meeting place for associations or a venue for poetry reading or as a home theatre. It housed numerous major writers of Maithili and Hindi and Nagarjun, Subhadra Jha, Jayakanta Mishra and many others used to be a part of them. Besides, he was associated with Maithili Rangamancha – an organization devoted to the performing arts, Loka Sahitya Parishad – devoted to folklore studies of Mithila, having set up a printing establishment, called the Singh Press (now closed), which made it possible for many writers in Maithili to bloom. He personally groomed and encouraged many young writers and scholars to write in Maithili, and inspired them and many more . He was also associated with the Advisory Board of Sahitya Akademi (New Delhi), Maithili Academy (Patna), Rajendra Chatra Bhavan (Calcutta), Hanuman Mandir Sahitya-Nyas (Calcutta), and was an active member of Asiatic Society of Bengal, Iran Society, Calcutta and the Calcutta chapter of the Lingusitic Society of India as well as the Philological Society of Calcutta. He also served on various boards of numerous universities in Bihar – Patna, Bhagalpur, Magadh and Mithila universities.
Like his daughter, Udaya Narayana Singh (also known as 'Nachiketa' to the Maithili literary world) has also grown up to be a major voice in Maithili poetry and play-writing today, besides being a major translator from and into Maithili.
Joined the Indian Revenue Service.
The list begins with starting from Rajkamal Choudhury, Brajakishore Verma 'Manipadma' and many more.
1974, Riitikaavya meM Uddiipan Vibhaava.
1974, Madhyayugiin naaTakoM kaa Saastriiya adhyayan ("An Analytical Study of Medieval Drama')
1975, Padmaakar kii kritiyoM meM alaMkaara yojanaa ('Employment of Figures of Speech in Padmakara's Works')
1977, BiisviiM sadii ke Hindii aora AngareZii dukkhaanta naaTakoM kaa tulanaatmaka adhyayana ('A Comparative Study of 20th Century Tragedies in Hindi and English')
1979, Maithilii upanyaasoM meM naarii citraNa ('Depiction of Women characters in maithili novels')
1978, Jaishankar Prasad kii kritiyoM meM Bauddha tattva ('The Buddhist Elements in Jayshankar Prasad's Works')
1982, Hindii kavitaa meM Hanumatkathaa ('The Story of Hanuman in Hindi Poetry')
1983, Maithilii SharaNa Gupta ke kaavya meM samaaja-citraNa ('The Depiction of Society in the Poetry of Maithili Sharan Gupta')
1983: BiisviiM sadii ke saptam dashak meM Hindi Baalopayogii kavitaa ('Children's Poetry in Hindi in seventies of the 20th Century')

Professor Prabodh Narayan Singh was completely incapacitated because of two massive cerebral hemorrhages in 1998. Over the years, his condition regressed into Senile Dementia and disphagia, and the onset of Alzheimer's disease.
In December, 2004, Prabodh Babu completed his 80th year.The award instituted in the honour of the octogenarian author, poet, translator and editor in Maithili, Dr Prabodh Narayan Singh, and a doyen of the Maithili language movement during the last 55 years, which culminated in Maithili being included in the 8th Schedule of the Constitution in December 2003, carries a cash award of Rs one lakh and a citation.